Whether it is an apartment building or a single-family house, there are usually always stairs. When moving in, no one thinks that these stairs – even if they are only a few steps – can become an insurmountable obstacle. For elderly people and people who are physically limited, a few steps can already become a big problem. In many cases, a stair lift can help.
When moving into a new apartment or buying a house, few residents think about stairs and steps. Hardly an apartment and hardly a house, however, are free of them. For older people or people with physical limitations, however, even a few steps can become a major obstacle.
How does a stair lift work?
A stair lift is technically a means of transport that can carry a load, such as a person or shopping, up and down stairs. It consists of a seating element or platform, a drive unit and a rail system that is mounted on the stairs or on the wall. People who can no longer climb the stairs, or can do so only with great effort, can remain independent and mobile with a seat lift. The principle is simple.
The seat lift moves on a rail that is permanently mounted on the stair itself. It is usually controlled by a remote control or a control in the armrest. When entering or exiting the staircase, the seat often automatically rotates toward the floor, allowing the person to exit comfortably and safely. New stairlifts cost between 3,800 and 15,000 €. An alternative is used stairlifts that are rechecked and refurbished by the provider or a third-party company. Often, up to 50% of the new price can be saved without having to sacrifice high quality and safety. When buying a used lift, you should make sure that wear parts such as armrests or seat covers have been replaced and are as good as new.
A seat lift can be installed on any staircase. However, the staircase should have a minimum width of 70 cm. The assembly is possible relatively easily. However, it should be noted that it is usually custom-made, which should be done only by professionals. Structural changes to the (staircase) house are usually not necessary, so that the actual assembly is done in a relatively short time, often within one working day.
Subsidies and grants
Prices for straight stairlifts start at about 3,800 €. However, depending on the type of stairlift and the structural situation, five-figure amounts can be reached. The financial situation is therefore a not insignificant factor in the decision for or against a stairlift. From the health insurance can be expected thereby NO subsidy. According to a ruling of the Federal Social Court, they are exempt from reimbursement. But there are various ways to reduce the acquisition costs through grants and federations. The best-known subsidy is the care cost subsidy, which is granted by the care insurance funds or health insurance funds of the insured. It reflects the efforts of the federal government to promote age-appropriate living in one's own four walls.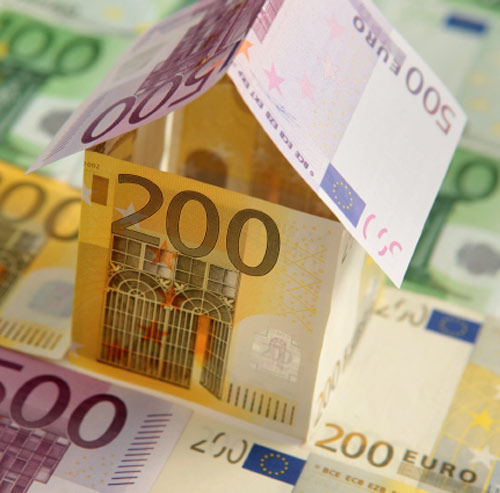 Source: kfw.de | KfW Image archive | Photographer: Thomas Klewar
The installation of a stairlift is associated with costs. As a rule, the installation costs for used lifts are between 700 and 1,000 €. Depending on the structural situation, total costs of over 10,000 € can arise. Before the purchase of a suitable seat lift the question of the financeability arises therefore. A prerequisite for being able to benefit from the care cost subsidy is the classification into a care degree. The term "need for care" was redefined in 2017 and reviewed and determined by a precisely described assessment procedure that must be followed exactly. An individual in need of care can thus receive up to 4,000 € for the purchase of a seat lift. However, this allowance can be multiplied if there are other persons in need of care living in the household concerned. A married couple can receive up to 8,000 €.
Irrespective of a care degree, the Reconstruction Loan Corporation (KfW) grants a subsidy for the stair lift with its program "Investment subsidy for age-appropriate conversion (455)". This subsidy can amount to up to 10% of the eligible investment costs. However, since this program is funded by the federal government, a new decision is made each year as to whether the subsidy for barrier-reducing measures will be continued.
Find a cheap stairlift
Compare without obligation

offers
Request offers
Many states offer a subsidy for the purchase of a stair lift: Bavaria, Saxony, Saxony-Anhalt, Baden-Wuerttemberg, Brandenburg, Hamburg, Hesse, Rhineland-Palatinate, Saarland and Schleswig-Holstein. In addition, the Hanover region and the city of Mannheim also offer a special subsidy program. Many state-owned development banks also offer low-interest loans to finance a stairlift.
In addition to the care cost subsidy, there are several other options in terms of a subsidized grant for the purchase of a stairlift. If you are entitled to a care degree due to an accident at work or an occupational disease, you can contact the Employer's Liability Insurance Association. In addition, the pension office also grants a financial subsidy in some cases. For further information, please contact your local care insurance provider.
What many people do not know: A stair lift can be deducted from taxes as a so-called "extraordinary burden". However, since the possible tax savings are calculated individually according to personal income and family circumstances, it is best for those affected to contact the tax office or their own tax advisor directly here. TIP: All reputable providers are well informed about the current subsidy options and can advise interested parties personally and comprehensively in this regard. However, it is important to check all subsidies before making a purchase. After the purchase has been made, retroactive grants are no longer possible.
Does the health insurance fund pay a subsidy?
No. According to a ruling of the Federal Social Court in 1998, the statutory health insurance companies are exempt from reimbursement. Technical aids that are permanently connected to a building can therefore neither be paid by the health insurance, nor subsidized. Only components of the aids catalog can be reimbursed by the health insurance. A seat lift does not belong to it. Financial support from the health insurance fund can therefore not be provided. However, subsidies can be applied for from the care insurance.
However, the Rehadat list of aids at least lists stairlifts. Under the following classes of DIN EN ISO 9999, they are listed as aids 18 30 for overcoming differences in height. Once as seat lifts (18 30 10), as platform lifts (18 30 11) and as stair climbers (18 30 12). A subsidy can be applied for from the care insurance if a nursing care degree is available. With the care reform, which has been active since January 2017, the concept of need for care was redefined, the care degrees were increased from 3 to 5 and prerequisites for obtaining care degree 1 were lowered.
What many people do not know: A stair lift can be deducted for tax purposes as a so-called "extraordinary burden". However, since the possible tax savings are calculated individually according to personal income and family circumstances, those affected should best contact the tax office or their own tax advisor directly here.
Who helps with the financing?
In most cases, the most important contact is the care insurance or the care insurance fund. If a care degree is available, the costs are partially covered by this institution.
As a rule, however, the stairlift providers themselves are also well informed about what regional grant and funding opportunities exist. Some also offer their customers active support in applying for the subsidies.
If the reason for installing a stair lift is related to an accident at work, employers' liability insurance associations are the right people to contact. Under certain conditions, the social welfare office, the pension office or office for social affairs, the Federal Employment Office, the state insurance agency, the federal insurance agency or opposing insurance companies (in the case of third-party fault) can also help.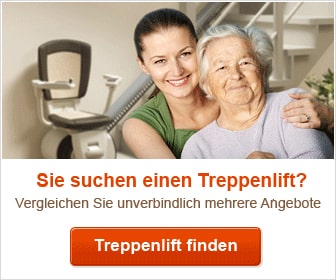 Also important to know: even if care insurance has already approved a subsidy, the stair lift can still be tax deductible as well. If the purchase of a stairlift is realized through a loan, you can claim the cost of interest at the tax office. For some time now, the Reconstruction Loan Corporation (KfW for short) has also been offering a special support program for people who are dependent on a stair lift. In the context of the action " 159 – age-fair rebuilding" can profit the concerning from a loan to a separate interest rate of one per cent per year. One can make then the interest costs at the tax office fiscally valid. For more information, it is best to contact KfW directly.
Prices and costs
A stair lift allows older people a completely new way of life – but due to the at first glance quite high prices many shy away from it. But it can pay off, if one informs oneself somewhat more exactly about the costs. In addition, the cost calculation depends on many different factors, so that a stairlift can also be significantly cheaper than previously thought, depending on the equipment and adaptation.
Factors influencing price
As mentioned at the beginning, the cost of a stairlift is made up of many different factors. Here it depends among other things on whether the lift is installed indoors or outdoors, for which model one decides, which rail system is needed and which additional equipment the lift should have. Furthermore, the price is also calculated according to the course of the stairs, the number of steps or floors and the running rail meter. In addition, in some cases the lift must also be adapted to the structural and personal requirements. Basically, therefore, the following applies: a stair lift is in most cases a custom-made product and is not only adapted to the individual needs of the respective person, but in addition also to the structural conditions.
| Lift type | Stair form | Area | Price |
| --- | --- | --- | --- |
| Stairlift | straight stairs | Inside | 3,800 to 9,700 € |
| Stairlift | curved stairs | Inside | 8,000 to 15,000 € |
| Stairlift | straight stairs | Outside | 4,000 to 7,500 € |
| Platformlift | straight stairs | Inside | 9,000 to 15,000 € |
| Platformlift | curved stairs | Inside | 12,000 to 25,000 € |
| Platformlift | straight stairs | Outside | 9,000 to 15,000 € |
| Platformlift | curved stairs | Outside | 15,000 to 25,000 € |
| Lifting Platform | Height up to 1.79m td> | Outside | 8,000 to 15,000 € |
| Lifting Platform | Height up to 3m | Outside | from 17,500 € |
All the above factors ensure that stairlift providers can rarely give blanket price information. At the current time, the average price range for a stairlift over one floor is around €4,000 to €15,000. Used models can be had for less than 3,000 €, but it is important to check carefully whether the model meets your requirements. When buying a new stairlift, a supplier can usually only give a concrete cost estimate after a detailed discussion on the phone or an on-site inspection. Furthermore, one should consider in advance whether the stairlift must also have special or adapted equipment. Thus, the provider can create a perfectly tailored to their own needs offer.
Price range for stairlifts
So, the cost of a seat lift is basically based on the model type and the direction of travel. For example, a normal commercial stairlift with a straight running direction currently costs between 3,800 and 9,800 €. With a curved running direction, on the other hand, the price is around 8,000 to 15,000 €. If the lift is installed outdoors, one must reckon with additional costs. All prices mentioned are customary in the market and do not refer to individual manufacturers and suppliers. So, in summary, the price of a stair lift is made up of the following factors:
| No. | Cost factors |
| --- | --- |
| 1. | Stair course (complexity and angle of inclination of the stairs) |
| 2. | Number of steps / length of the staircase |
| 3. | Number of stopping points / floors |
| 4. | Wall or stair mounting (effort of installation) |
| 5. | Height to be overcome |
| 6. | Additional equipment and optics |
| 7. | Weather resistance for outdoor installation |
| 8. | Load-bearing capacity and load-bearing capacity |
| 9. | Warranty extensions and additional service |
Acquisition costs
A stair lift allows barrier-free access often without extensive remodeling of the living environment. It can be installed within a very short time and is cheaper to purchase than conventional elevators. Nevertheless, one should expect costs of at least 3,800 € when purchasing a stair lift. These prices are customary in the market and do not refer to a single supplier. For a single-family house with one floor and a curved staircase, prices of up to 15,000 € can quickly arise. If a care degree is available, up to 4,000 € subsidy can be applied for and claimed from the care insurance.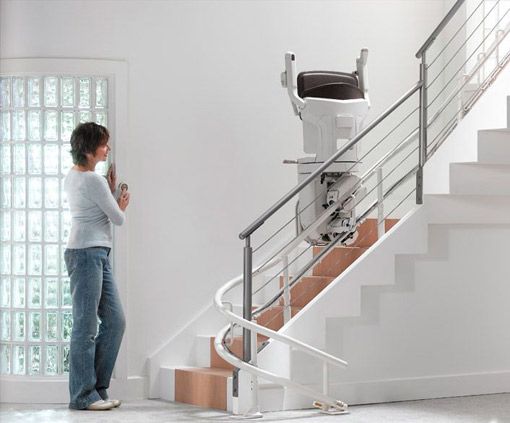 Source: © Lifta GmbH | Press image from Lifta.de
The price of a stair lift depends on various factors such as the number of stopping points, the course of the stairs and the preferred model. Stairlifts for outdoor use are understandably more expensive than those for indoor use. The real purchase costs can be determined very accurately by obtaining several cost estimates from different manufacturers and suppliers. As an intermediary platform, we bundle the inquiries and obtain different offers from several suppliers for you.
An incalculable factor, on the other hand, is the cost of the necessary conversion work on the single-family home. If larger excavations are necessary at the single-family house, e.g. with the installation of a lift, additional costs can result. Therefore, before buying a lift, always find out about "all" the costs involved and financial subsidies. In addition to the care cost subsidy for measures to improve the individual living environment, the state-subsidized KfW Bank promotes measures to reduce barriers with favorable loans of up to 50,000 €.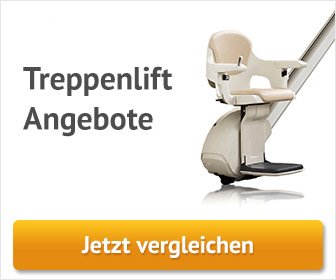 Prices and customization options vary widely from manufacturer to manufacturer. There are no blanket price quotes such as a price per 1 meter height or per stair tread. In general, it can be said that the more steps are overcome, the more often the rails change direction and the more weight has to be transported, the more expensive the stairlift will be. A stairlift that is attached to the outside staircase, has a rail length of around 2 meters, has 2 stopping points, moves via a hydraulic drive and can be used by a wheelchair user will cost at least 9,000 € to install. The purchase is costly and should therefore be carefully planned. With a price comparison over treppenlifto.de much money can be saved. You will receive up to three free and non-binding offers from stairlift providers in your region, which you can compare at your leisure and without risk.
Costs for maintenance and servicing
Stairlifts are low-emission, durable, lightweight and space-saving. However, to ensure the functionality and extend the life of the lift, it should be maintained regularly. A stairlift should have its oil and seals changed approximately every 5 years. The material needed for this is freely available and costs about 100 €. For the professional implementation of the oil -and seal change, one should expect costs of about 500 €. The cost of labor for maintenance without a service contract is about 200 to 700 € per year. As a rule, a partial or full service contract is concluded with the lift manufacturer from whom the stairlift is purchased to cover maintenance for a period of five or ten years. The costs for maintenance, inspection, cleaning, lubrication, adjustment work and the replacement of wear parts are then usually regulated on a flat-rate basis. One can count here on about 100 to 200 € per year.
Energy costs
The energy costs for a stairlift are made up of the consumption during the trips and the standby times. For a stairlift in a single-family house with 1,500 trips per year, which is equivalent to 4 trips per day, you should expect energy costs of 200 kWh standby power and 100 kWh travel power. At an electricity price of 0.26 €/kWh, this results in annual costs of approximately 78 €. Stairlifts in single-family homes stand still 99% of the time. The energy costs therefore depend primarily on how much the elevator is used, whether the drive installed is suitable for the particular usage situation and what height the stairlift has to climb. As a rule, more than 50% of the power consumption of stairlifts is consumed in standby (idle) mode. In order to save energy costs, one should make sure when buying that LED lamps are installed instead of halogen or incandescent lamps and that a timer function exists for the lighting and electronics.
Rent or pay in installments
Many manufacturers also offer the possibility of renting a stairlift for a limited period of time or paying it off monthly by installment. Here it is advisable to compare the prices of the different offerers in detail and in peace with one another – that saves cash money. Furthermore, it can't hurt to talk to your bank advisor about a financing model. In some cases, a bank loan may have lower interest rates than a loan through the respective lift provider. In addition, an on-site inspection and cost estimate should always be non-binding and free of charge.
Mounting and professional installation
The installation of a stairlift is a task for a professional. Craftsmen laymen should never do it themselves, even if the temptation is still so great. Only professional installation ensures that the manufacturer's warranty is fully maintained and that there are no risks associated with the use of the seat lift. Safety should always be a top priority.
Source: © Lifta GmbH | Press image from Lifta.de
The installation of a stair lift is a demanding task that should be left to professionals. In addition to a millimeter-precise assembly and adjustment on the stairs, it is also about the correct electrical installation. After the customer has decided on a model, the rails are individually manufactured in the factory. Normally, the manufacturer needs three to five weeks until the stairlift and the matching curved rails are produced and ready for delivery. If, on the other hand, the stairlift is a straight stairlift, the individual parts are usually already available and the lift can be delivered within a week.
After making an appointment with the customer, the lift is installed directly by the service technicians. The installation is usually uncomplicated, fast and above all clean. Since in most cases the rail system is attached to the stair treads, no major structural work is required. The installation itself takes only a few hours and can be done without the presence of the customer. If the rails have to be installed on the wall due to structural conditions or at the request of the customer, the installation time is extended by several hours.
Source: © Lifta GmbH | Press image from Lifta.de
After the installation of the stair lift is completed, it is adjusted and thus adapted to the individual needs of the customer. Here it is advisable to carry out some test drives, so that the technician can adjust the stairlift perfectly. On the one hand, one should pay attention to the seating comfort and on the other hand to the operability. Furthermore, you should make sure that the stairlift does not make any loud noises during the ride and that it can be stopped at any time. Afterwards, the service technicians will instruct you in the use of the stairlift. Here, all open questions on the customer's side should be answered. Finally, the entire stairwell is cleaned by the technicians and the installation is now complete.
Which stairlift companies are there?
The installation of a stairlift should be entrusted to specialized companies, which have experience and the necessary know-how. Only in this way a safe use of the seat lift is guaranteed and only in this way the full warranty claims against the manufacturer of a stairlift are fully preserved. Another advantage: professionals have a normal seat lift quickly mounted. As a rule, all work is done within one working day and the staircase is also cleaned afterwards. However, it can be useful to look over the fitters' shoulders as they work. In this way, you learn first-hand what you have to pay attention to when using the lift.
Among the best known and largest manufacturers operating in Germany are the following companies: Lifta, Garaventa Lift, Acorn, Handicare, Hawle Stairlifts, Hiro Lift, Högg, SaniMed Stairlifts and ThyssenKrupp Home Solutions (formerly Encasa). All suppliers are known for high quality products, very good service and a reasonable price/performance ratio. Differences are mainly in model selection, features of the different stairlifts, density of the service network and prices.
| Manufacturer & Provider | Location |
| --- | --- |
| A1 Dietz | Kraichtal |
| Abtei Treppenlifte Germany GmbH | Freiburg |
| AJ-Medizintechnik GmbH | Dormettingen |
| AP+ Treppenlifte GmbH | Cologne |
| Der Treppenlift GmbH | Cologne |
| DomusLift | IGV GROUP | Kraichtal |
| EXTRALIFT GmbH | Reute |
| Leoba GmbH | Mössingen |
| LiftTec GmbH | Donaueschingen |
| Peter Auer GmbH | Gailingen am Hochrhein |
| REHA CARE Service-Center GmbH | Bad Rappenau |
| Sani-trans GmbH | Langenau |
| Südlift GmbH | Lonsee |
| Ulrich Alber GmbH | Albstadt-Tailfingen |
| Einfach Lift | Dietenhofen |
| Frankenlifte | Weisendorf |
| Graf Komfortlifte GmbH | Aurachtal |
| Roka LiftConcepts GmbH & Co. KG | Laimering |
| Eggert Lift-Technik GmbH | Berlin |
| Medic Care (Ines Schulz) | Oranienburg |
| ArjoHuntleigh GmbH | Wiesbaden |
| Guldmann GmbH | Wiesbaden |
| Herkules Reha GmbH | Kassel |
| HOYER GmbH | Butzbach |
| Wachsmann Lift-Technik | Marburg |
| Detlev Siemer GmbH | Ganderkesee |
| Lehmann Rollstuhlrampen & Hebelifte | Schwanewede |
| Acorn Treppenlifte GmbH | Düsseldorf |
| EDUC GmbH | Warburg |
| FavoritLift, Veronika Schweda | Barntrup |
| Garaventa Lift GmbH | Cologne |
| Handicare GmbH | Minden |
| HAWLE | Ruppichteroth |
| Heim Treppenlifte | Ruppichteroth |
| HIRO LIFT | Bielefeld |
| HÖGG-Lift Handels-GmbH | Bochum |
| Lifta GmbH | Cologne |
| Liftserv Treppenlifte GmbH | Lage-Kachtenhausen |
| Lippe Lift- und Anlagenbau GmbH | Lemgo |
| Proflex GmbH | Cologne |
| SANIMED GmbH | Ibbenbüren |
| ThyssenKrupp | Neuss |
| vitaLift Treppenliftsysteme | Hennef |
| Ascendor GmbH | Niederwaldkirchen |
| Lehner Lifttechnik GmbH | Neunkirchen |
| Servelift Gmbh | Ulrichsberg |
| Weigl-Aufzüge Ges.m.b.H. & Co.KG | Waizenkirchen |
| Agesa Rehatechnik GmbH | Saarbrücken |
| Liftunion | St. Ingbert |
| Weiland Liftdienst GmbH | Nonnweiler |
| HETEK Lift- und Hebetechnik GmbH | Treffurt |
The market leader in Germany is the company Lifta. Meanwhile, the company has existed for more than 40 years and is one of the leading suppliers in the industry. This is due in particular to the great variety of the model program and the good service. Lifta was founded in Cologne in 1977. However, the history of the company is much older. As elevator company L. Hopmann, the original company had already existed since 1883. Today, Lifta is one of the leading suppliers of stair lifts. Each year, the company says it sells more than 6,500 lifts. In total, more than 130,000 lifts have already been sold. Lifta is best known for its TV commercials and its striking logo with the swallow. This is intended to symbolize movement and lightness – both important functions of stair lifts that support people with limited mobility in their everyday lives. Lifta's seat lifts are suitable for almost any staircase, provided that the minimum width is 70 cm. Lifta claims to have the largest selection of models in Germany. The range includes both 1-rail and 2-rail systems.
What about maintenance?
Even after the actual installation, you have to rely on professional support at regular intervals. Depending on the degree of use, the stairlift should be maintained about every 12 months. The decisive factor is how many people use the lift and whether it is used outdoors, indoors or in a public building. In the best case, this is done by the specialist company that installed the seat lift. They can also adapt the maintenance to the individual usage situation and, if necessary, extend or shorten the intervals. For safety reasons, maintenance should never be carried out by the user.
A regular maintenance gives one the security that the stairlift functions properly and malfunctions due to wear or dirt should not occur. Costly damage and unnecessary additional costs can be avoided and the life of the lift significantly extended.
The cost of maintenance is about 100 and 200 € per year. However, the services and conditions vary depending on the provider. In any case, you should inquire before buying a stairlift and take these costs into account in your calculation.
Test stairlifts and compare offers
The investment in a stairlift is a far-reaching decision, which can be corrected afterwards only with difficulty. All the more important is therefore a sufficient preparation in advance of the installation. This should in any case include a price comparison and a test drive. The latter is possible with many providers. The better known and larger the stairlift supplier is, the more customers he will have in your area. With these, a test drive is then arranged at home, where you can examine the installation, test the lift yourself and also still ask your own questions to the owners.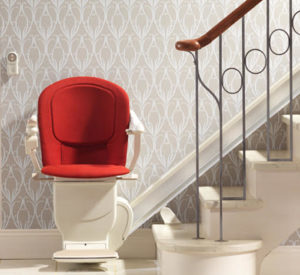 When a new car is to be purchased, reading test reports is part of the normal preparation as part of the buying process. In addition to such technical articles, personal testing, for example during a test drive, is also particularly important. This is similar for seat lifts. However, stair lifts are not mass-produced goods, but custom-made products. Testing a seat lift is therefore difficult in many cases.
In an independent test of the German society for consumer studies and N24, in which several manufacturers and their products were examined, several offerers could convince. The investigation took into account not only the stairlift range itself, but also the service, advice and price for various offers. Sanimed was declared the test winner in the price category. As reason the testers of the DtGV called on the one hand the absolutely fair price performance ratio and on the other hand the circumstance that Sanimed offers the current most inexpensive stair elevator. Here the company was able to prevail against a total of four other stairlift manufacturers.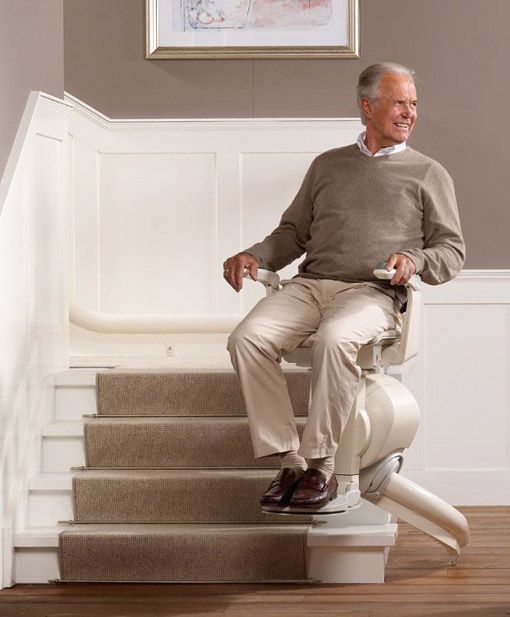 Source: © Lifta GmbH | Press image from Lifta.de
The simplest and cheapest option is a stair lift for straight stairs. With a straight routing, the running rail is fixed above the steps without changing the inclination. Since the rail is not curved, it only needs to be adjusted in length. All manufacturers offer different models for straight stairs. Most basic models, are available from 3,000 €. These variants do not offer a choice of colors for seat cushions and also no special armrests, but have a very good price/performance ratio. The payload is between 120 and 140 kg and a height-adjustable seat is included in most cases at no extra charge – the same applies to the seat belt, by the way. The seat, as well as the footrest and armrests, can be folded to save space.
| | Properties of a standard stair lift |
| --- | --- |
| 1 | Swivel seat |
| 2 | Safety belt |
| 3 | Key switch/child lock |
| 4 | Operator lever at the end of the armrest |
| 5 | Speed limit |
| 6 | Safety sensors (e.g. weight sensor) |
| 7 | Seat, armrest and footrest foldable |
| 8 | Electric motor can also be used in battery mode |
| 9 | Load up to 120 kg |
| 10 | Seat height adjustable |
| 11 | Two call and send stations |
| 12 | Remote control |
| 13 | 3-year manufacturer warranty |
What should you test?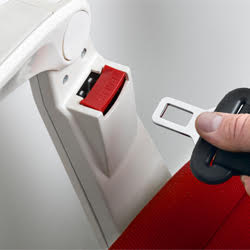 First of all, it is important to note that the prices of stairlifts depend on very many different factors.
A test on the basis of data sheets and price lists is therefore only very limited meaningful. Price comparisons, as they are easily possible for example with electrical goods or household appliances, usually fail with stairlifts. The first approach to testing a seat lift before buying therefore involves obtaining several individual quotes, which should be tailored to individual needs.
Test stair lifts on site?
These offers provide an overview of the different manufacturers and model types. In the dialogue with a specialized dealer or fitter, one should directly include the individually important factors and circumstances. A dedicated supplier will give the buyer the opportunity to test the features and benefits of the offered seat lift on site. The buyer can try out the handling of the lift during a test drive and thus familiarize himself with the lift. However, a practical test in your own home is never possible.
Stairlifts for wheelchair users
People who rely on a wheelchair to remain mobile need a special form of stair lift. With a seat lift, the wheelchair must be abandoned, which can be problematic for people with severe mobility limitations. Moreover, the wheelchair itself cannot be transported with the help of a seat lift. A platform lift is therefore more suitable.
The principle is similar to that of a seat lift, but instead of a seat, a platform is attached to the rails. This means that the wheelchair user can simply drive onto the platform with his vehicle via a small, built-in ramp, press the switch there and be transported upwards together with his wheelchair. At the top, he can then leave the platform again via the same route. With platform lifts, there is no need to leave the wheelchair. Platform lifts can be installed indoors or outdoors. An alternative to permanently installed platform lifts are mobile stair aids such as stair caterpillars or stair climbers. However, these cannot be operated autonomously and always require an attendant.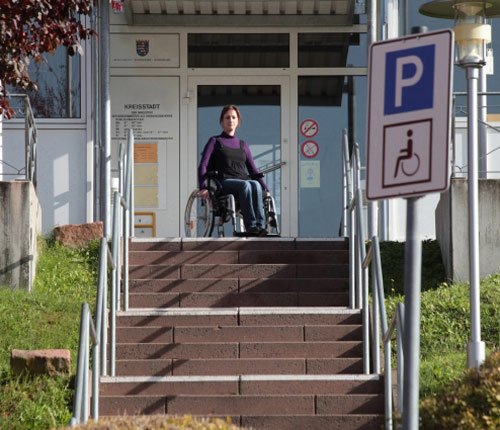 Source: kfw.de | KfW Image archive | Photographer: Thomas Klewar
Seat lifts are usually not the right choice for wheelchair users. With a Stairlift, the wheelchair must be abandoned, which can be problematic for people with severe mobility impairments. Moreover, the wheelchair itself cannot be transported with the help of a seat lift. A platform lift is therefore more suitable.
Platform lifts for wheelchair users
The platform lift is a stair lift that is tailored to the special needs of people who are dependent on a wheelchair. The platform lift is permanently installed.
It allows to move on a platform together with the wheelchair. The wheelchair is thus transported up or down with the lift. The person using the stair lift can remain seated in the wheelchair. The platform lift can be installed both indoors and outdoors. It offers maximum independence to people with limited mobility and is available in many variants.
Stair crawlers and stair climbers
In addition to such a lift for wheelchair users, stair caterpillars and stair climbers are also available as alternatives.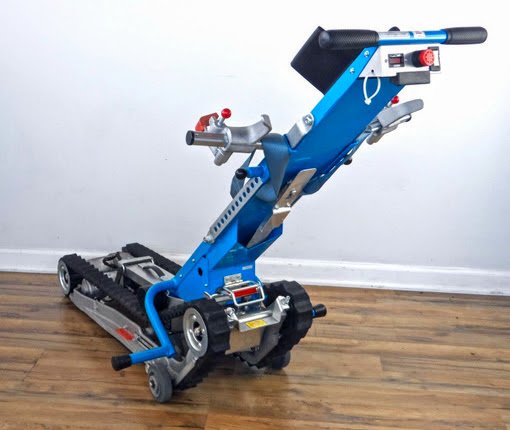 Stair caterpillars and stair climbers are so-called stair aids. In the case of the stair caterpillar, the wheelchair is pulled over a caterpillar track. Principally, however, this works only on straight stairs. A stair climber works in a similar way, but without a chain. The advantage of both alternatives: There is no need for complex installations. Disadvantage: Handling is less comfortable than with a stair lift. Severely mobility-impaired people may need assistance.
Advantages of stairlifts: These reasons speak for the purchase
Stairlifts have numerous benefits for people with limited mobility. The most important effects are a regained independence and more enjoyment of life. Stairs that previously seemed insurmountable or at least became a major obstacle, lose their terror through stairlifts. Thus, a much greater freedom of movement can be regained. And there are other advantages that speak for a seat lift.
Even in old age or after an accident, people want to remain mobile and independent. Stairs can be a real obstacle in this regard. With a stair lift, steps become usable again even for people with limited mobility, and stairs thus lose their terror. For those affected, this means an immense gain in quality of life due to the increased freedom of movement. Thanks to a seat lift, some independence can be regained in many cases. But there are further advantages. Since a stair lift is a very expensive purchase – prices vary between 3,800 and 15,000 € – it is essential that the lift is perfectly suited to the user and his or her individual needs. For this reason, all manufacturers have several models in the portfolio at once, which can be further customized.
Stairs without terror
Many times it has already been established that stairlifts can help people with mobility restrictions. The advantages of the stair lift are not limited to overcoming a few steps. The new personal freedom results in many psychological benefits, such as increased self-esteem. Another advantage is the great plus in safety. People with limited mobility can easily fall and seriously injure themselves – especially on stairs. Stairlifts help take away this fear, not only for those affected, but also for their relatives.
| No. | 10 questions to check the seriousness of the provider! |
| --- | --- |
| 1. | Does the company offer customer service? |
| 2. | Is there a guaranteed fault assistance of the company? How quickly can this be on site? |
| 3. | How long is the warranty? |
| 4. | Are wear parts such as switches or seat cushions covered by the warranty in the event of damage? |
| 5. | Can maintenance agreements be made with the company? |
| 6. | Is the installation included in the price? |
| 7. | Can the lift be purchased without the rail system? |
| 8. | Is there a TÜV CE certification? |
| 9. | When was the last time tested by TÜV? |
| 10. | How is shipping organized and is it insured? |
| 11. | Is the on-site consultation free of charge and the offers without obligation? |
| 12. | Is a test drive possible? |
Staying at home
The own apartment or house are very important for many people and a part of their identity. Even in old age, many people are reluctant to leave their familiar surroundings. A removal into a new dwelling or a nursing home is besides also with high unique and if necessary with rising running costs connected. Seat lifts make it possible to keep your own 4-walls longer and can become the most cost-effective alternative.
Source: © Lifta GmbH | Press image from Lifta.de
Many elderly people are dependent on a stair lift, but due to the high purchase and installation costs, few can afford it. However, there are now more and more regional and federal subsidies that allow grants of several thousand €. In addition to the various federal states, the KfW Bank and many care insurance companies also offer these subsidies. But what do you have to consider if you want to apply for such a grant? The experts of the stairlift providers and independent stairlift consultations can help here.
In any case, one should never save at the wrong end when it comes to a stairlift. Instead, you should consider whether there are not some equipment that you may not need for a few years. Of course, it is also possible to retrofit a seat lift, but this can also result in significantly higher costs later on. Finally, it should be said that it is worthwhile in any case, if you compare offers from different manufacturers in peace with each other and get advice from experts before making a purchase.
More interesting articles